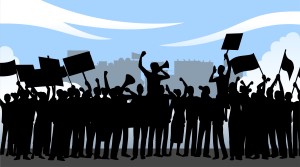 Since the election, political tension has risen across the nation. People express their dissent in different ways all across the political spectrum, from organized boycotts to acts of vandalism, and a lack of communication between those affected.
It's another chapter in America's long history of protesting the status quo. And one thing that hasn't changed is the tension between peaceful demonstration and violent retribution. On tonight's show, Milena Germon and Daniel In are discussing nonviolent activism and it's place in our day to day interactions, activism and advocacy, as well as conflict resolution.
Tonight's stellar guests include Jonathan White, Director of the Bentley Service-Learning Center and associate professor of sociology at Bentley University; Nathan Broaddus, Maine Quaker and leader who has served on the Peace and Social Concerns Committee at the Portland Friends Meeting; Bangor High School student Olivia Baldacci; and June Sapiel, Native American Rights activist, speaker, and Human Resources Specialist for the The Penobscot Indian Nation.
Join us on WMPG, 90.9fm and/or 104.1fm from 7:30-8:30pm!